Fresh-Baked Bagels
---
Ancient Grain
Asiago
Blueberry
Chocolate Chip
Cinnamon Raisin
Cinnamon Sugar
Everything
French Toast

Honey Whole Wheat
Onion
Plain
Poppyseed
Pretzel
Pumpernickel
Sesame Seed
Gourmet Bagels
---
Challah
Cheddar Jalapeno
Jalapeno Bacon
Power Protein

Six Cheese
Spinach & Swiss
Double-Whipped Shmear
---
Garden Veggie
Jalapeno Salsa
Onion & Chive
Honey Almond
Plain
Plain Reduced Fat
Strawberry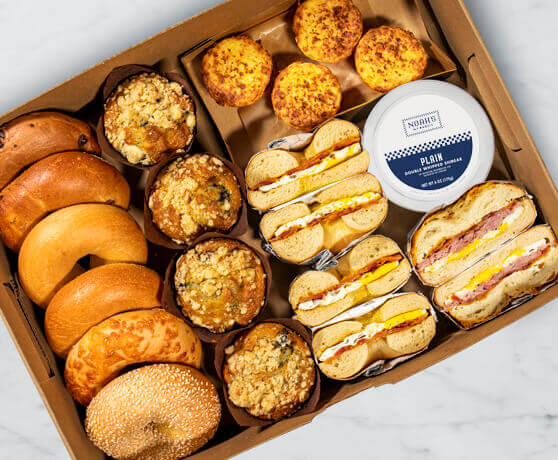 Everyday Brunch
---
BRUNCH BOX
Brunch for the family taken care of. Box includes – 6 bagels (2 Plain, 1 Sesame, 1 Asiago, 1 Chocolate Chip, and 1 Cinnamon Raisin), 1 tub of Plain Shmear, 1 Farmhouse Egg Sandwich, 2 Bacon & Cheddar Egg Sandwiches, 4 Twice-Baked Hash Browns, and 4 Blueberry Muffins.
Classic Egg Sandwiches
---
BACON & CHEDDAR
Thick-Cut Bacon on a Plain Bagel
TURKEY-SAUSAGE & CHEDDAR
Turkey-Sausage on a Plain Bagel
HAM & SWISS
Smoked Ham on a Plain Bagel
CHEDDAR CHEESE
On a Plain Bagel
All our Eggs & Egg Whites are Cage-Free.
Sub Egg Whites on any sandwich.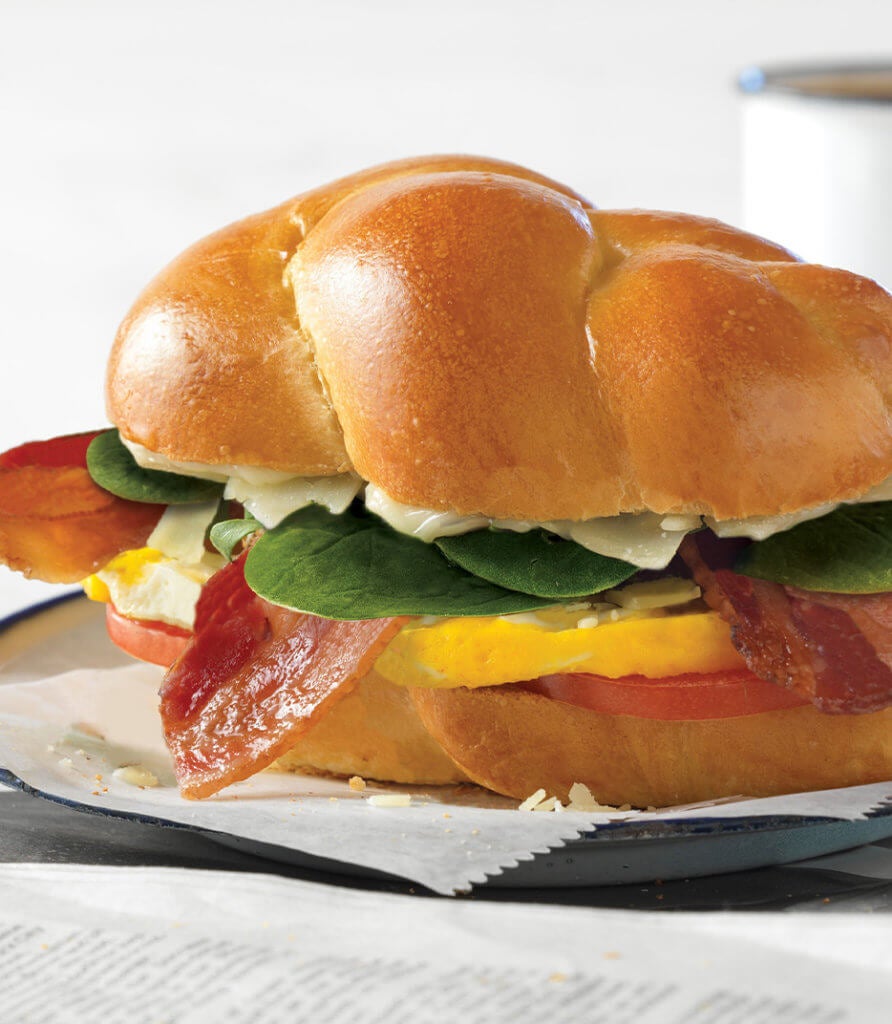 Signature Egg Sandwiches
---
TEXAS BRISKET
Smoked Beef Brisket, Cheddar with Smoky Chipotle Aioli on a Jalapeno Bacon Gourmet Bagel
FARMHOUSE
Thick-Cut Bacon, Ham, Cheddar, Pepper Shmear on a Six-Cheese Gourmet Bagel
CHORIZO AVOCADO SUNRISE
Chorizo Sausage, Cheddar Cheese, Jalapeno Salsa Shmear, on a Cheddar Jalapeno Gourmet Bagel
SANTA FE
Turkey-Sausage, Salsa, Cheddar Cheese, Jalapeno Salsa Shmear on an Asiago Bagel
GARDEN AVOCADO
Avocado, Tomato and Spinach with Roasted Tomato Spread on a Fresh-Baked Everything Bagel
BACON, AVOCADO & TOMATO
Roasted Tomato Spread on a Plain Thin Bagel
POWER EGG WHITE
Turkey-Sausage, Avocado, Spinach, Tomato on an Ancient Grain Thin Bagel
BREAKFAST BLT
Thick-Cut Bacon, Spinach, Tomato, Parmesan Mayo on Challah
Deli Lunch Sandwiches
---
HOT PASTRAMI
Served Hot. Swiss, Diced Pickles, Red Onion, Mustard, on Everything Bagel
TURKEY AVOCADO CLUB
Thick-Cut Bacon, Lettuce, Tomato, Roasted Tomato Spread on Potato Roll
TURKEY BACON & SWISS
Thick-Cut Bacon, Lettuce, Tomato, Roasted Tomato Spread on Challah
AVOCADO VEG OUT
Avocado, Tomato, Lettuce, Cucumbers, Red Onions and Garden Veggie Shmear on a Sesame Bagel
TURKEY, HAM, OR PASTRAMI
Cheese, Lettuce, Tomato, Red Onion, Mustard, Mayo on Potato Roll
Sandwiches include Pickle & Chips
Fish & Favorites
---
NOVA LOX SANDWICH
Cucumber, Tomato, Red Onion, Capers with Plain Shmear on Plain Bagel
BIG BREAKFAST BURRITO
Eggs, Turkey-Sausage, Bacon, Melted Cheese, Green Chiles, Hash Browns, Salsa and Plain Shmear in a Flour Tortilla
BAGEL DOG
Original or Asiago
PIZZA BAGEL
Cheese/Pepperoni on Plain Bagel
Coffee & Espresso
---
Hot or Iced
Coffee
Latte
Mocha
Vanilla Latte
Vanilla Hazelnut Latte

White Chocolate Mocha
Caramel Macchiato
Cold Brew Coffee
---
Iced or Frozen Shake
Classic
Caramel
Chocolate
Vanilla
Tea & More
---
Chai Latte
Hot Tea
Hot Cocoa
Iced Tea
Fountain
Sweets
---
Heavenly Chocolate Chip Cookie
Blueberry Muffin


Chocolate Chip Coffee Cake
Greek Yogurt Cherry Pastry
Contains Nuts
Vegetarian