Fresh-Baked Bagels
---
Ancient Grain
Asiago
Blueberry
Chocolate Chip
Cinnamon Raisin
Cinnamon Sugar
Everything
French Toast

Honey Whole Wheat
Onion
Plain
Poppyseed
Pretzel
Pumpernickel
Sesame Seed
Gourmet Bagels
---
Challah
Cheddar Jalapeno
Jalapeno Bacon
Power Protein

Six Cheese
Spinach & Swiss
Double-Whipped Shmear
---
Garden Veggie
Honey Almond

Jalapeno Salsa
Plain
Smoked Salmon
Strawberry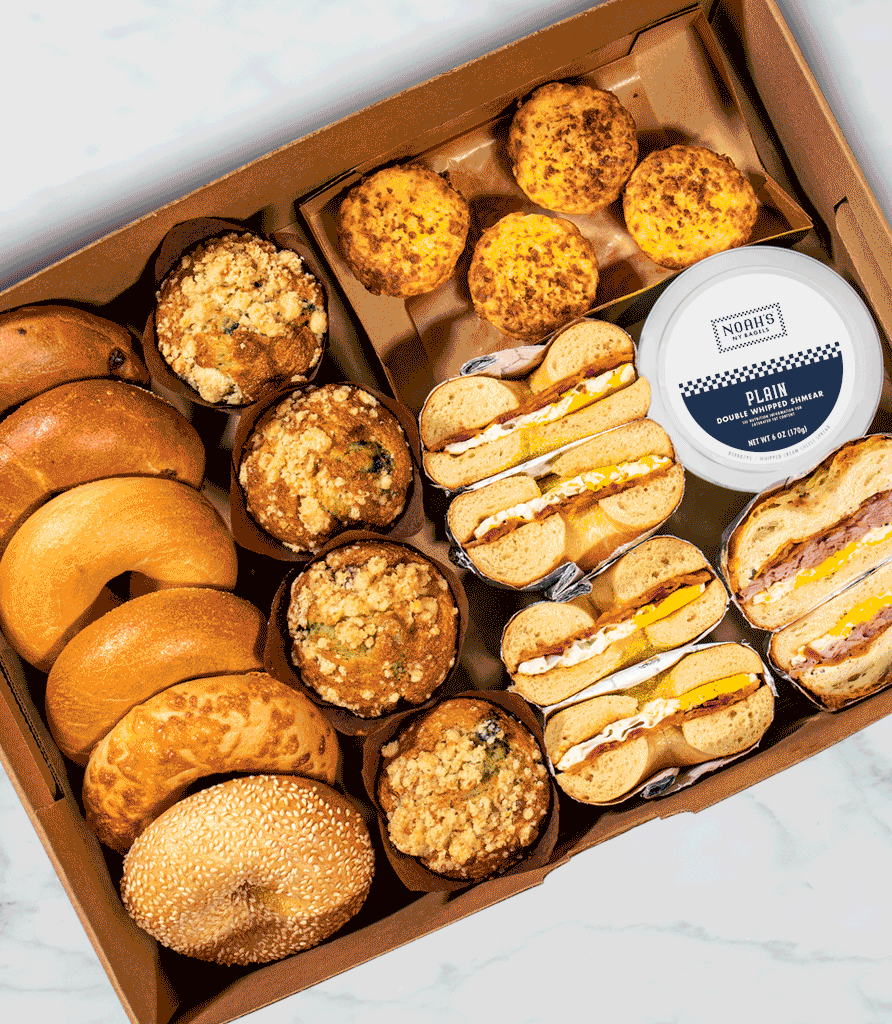 ---
BRUNCH BOX
Brunch for the family taken care of. Box includes – 6 bagels (2 Plain, 1 Sesame, 1 Asiago, 1 Chocolate Chip, and 1 Cinnamon Raisin), 1 tub of Plain Shmear, 1 Farmhouse Egg Sandwich, 2 Bacon & Cheddar Egg Sandwiches, 4 Twice-Baked Hash Browns, and 4 Blueberry Muffins.
NOVA LOX PLATE
A great add-on to the Brunch Box Kit or any of our fresh-baked bagels. Includes 8oz of Nova Lox, enough for 4 sandwiches plus tomatoes, red onion, capers and lemon. Bagels & Shmear Tub sold separately.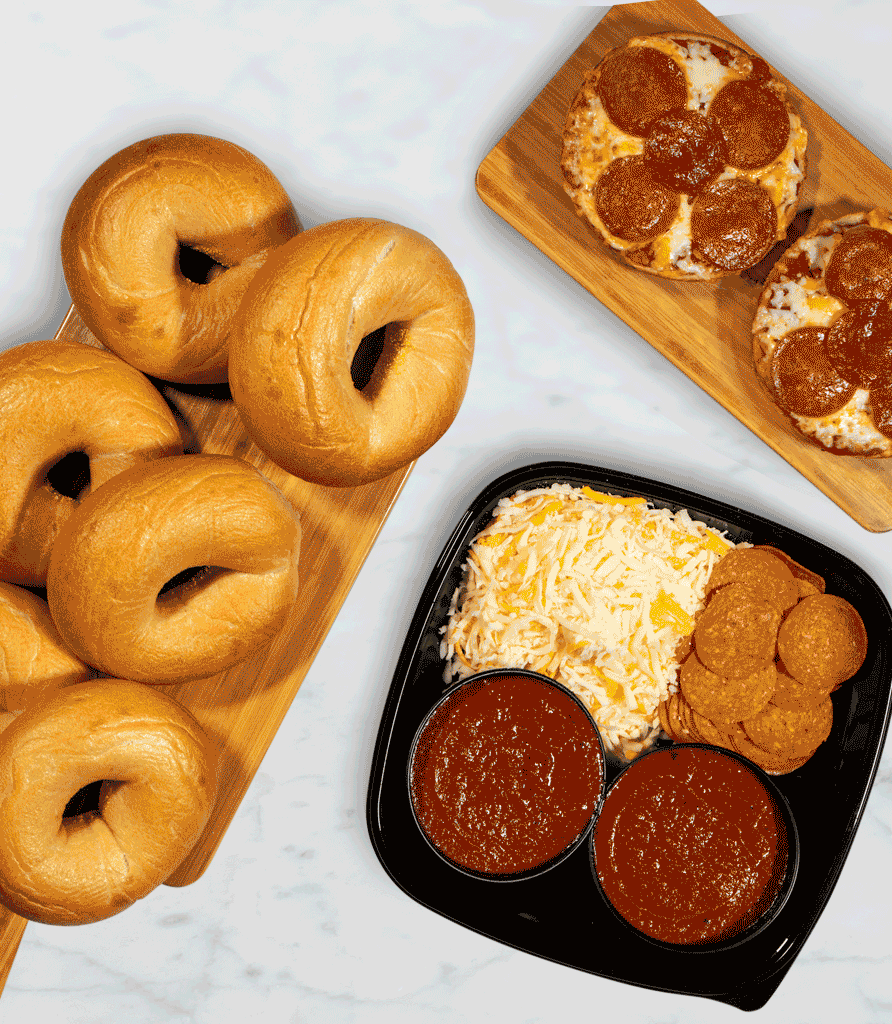 PIZZA BAGEL KIT
A perfect meal for families, this kit comes with bagels and ingredients to make 6 Pepperoni and 6 Cheese Pizza Bagel halves. Great for kids too!
BAGEL DOG KIT
Pick up a 4 pack of our famous Bagel Dogs to heat up at home. A true crowd pleaser. Comes with 2 Plain and 2 Asiago Bagel Dogs.
JUMBO COOKIE KIT
Love our cookies? Now you can bake your own for the family at home with our Cookie Kit. This kit comes with enough dough for 8 large chocolate chip cookies.
Classic Egg Sandwiches
---
BACON & CHEDDAR
Thick-Cut Bacon on a Plain Bagel
TURKEY-SAUSAGE & CHEDDAR
Turkey-Sausage on a Plain Bagel
HAM & SWISS
Smoked Ham on a Plain Bagel
CHEDDAR CHEESE
On a Plain Bagel
All our Eggs & Egg Whites are Cage-Free.
Sub Egg Whites on any sandwich.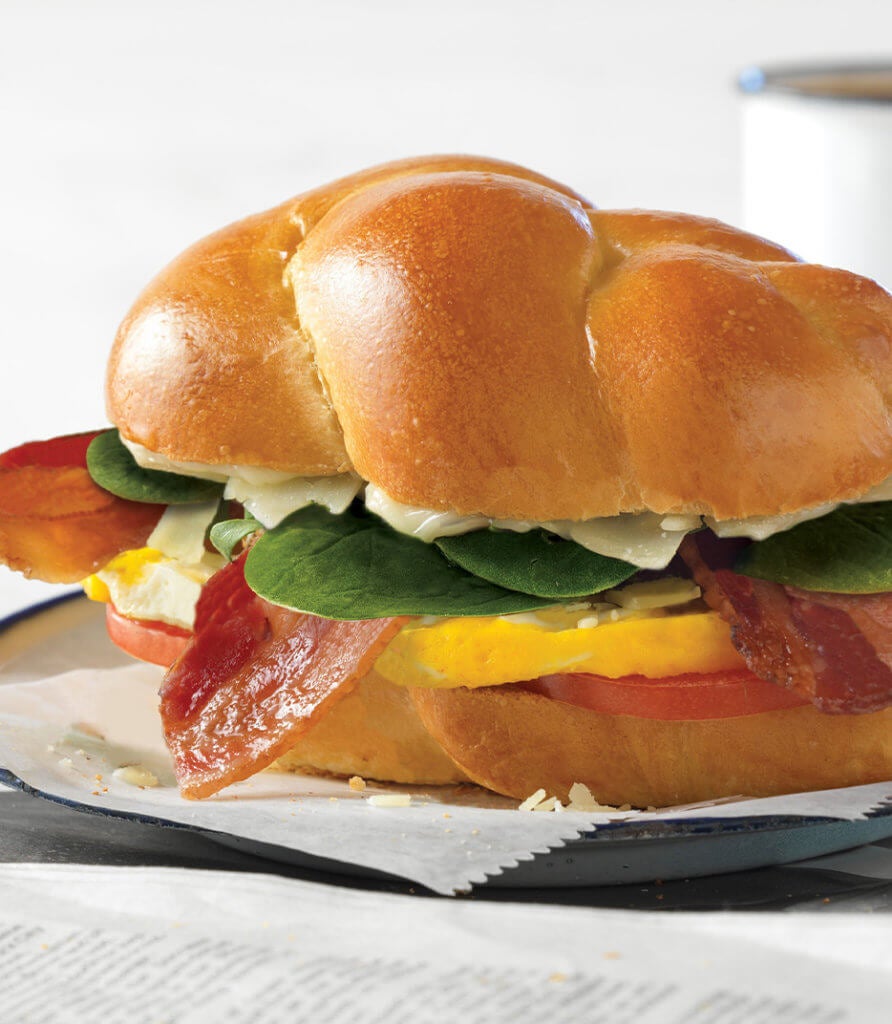 Signature Egg Sandwiches
---
TEXAS BRISKET
Smoked Beef Brisket, Cheddar with Smoky Chipotle Aioli on a Jalapeno Bacon Gourmet Bagel
FARMHOUSE
Thick-Cut Bacon, Ham, Cheddar, Pepper Shmear on a Six-Cheese Gourmet Bagel
CHORIZO AVOCADO SUNRISE
Chorizo Sausage, Cheddar Cheese, Jalapeno Salsa Shmear, on a Cheddar Jalapeno Gourmet Bagel
SANTA FE
Turkey-Sausage, Salsa, Cheddar Cheese, Jalapeno Salsa Shmear on an Asiago Bagel
GARDEN AVOCADO
Avocado, Tomato and Spinach with Roasted Tomato Spread on a Fresh-Baked Everything Bagel
BACON, AVOCADO & TOMATO
Roasted Tomato Spread on a Plain Thin Bagel
POWER EGG WHITE
Turkey-Sausage, Avocado, Spinach, Tomato on an Ancient Grain Thin Bagel
BREAKFAST BLT
Thick-Cut Bacon, Spinach, Tomato, Parmesan Mayo on Challah
Deli Lunch Sandwiches
---
HOT PASTRAMI
Served Hot. Swiss, Diced Pickles, Red Onion, Mustard, on Everything Bagel
TURKEY AVOCADO CLUB
Thick-Cut Bacon, Lettuce, Tomato, Roasted Tomato Spread on Potato Roll
TURKEY BACON & SWISS
Thick-Cut Bacon, Lettuce, Tomato, Roasted Tomato Spread on Challah
AVOCADO VEG OUT
Avocado, Tomato, Lettuce, Cucumbers, Red Onions and Garden Veggie Shmear on a Sesame Bagel
TURKEY, HAM, OR PASTRAMI
Cheese, Lettuce, Tomato, Red Onion, Mustard, Mayo on Potato Roll
Sandwiches include Pickle & Chips
Fish & Favorites
---
NOVA LOX SANDWICH
Cucumber, Tomato, Red Onion, Capers with Plain Shmear on Plain Bagel
BIG BREAKFAST BURRITO
Eggs, Turkey-Sausage, Bacon, Melted Cheese, Green Chiles, Hash Browns, Salsa and Plain Shmear in a Flour Tortilla
BAGEL DOG
Original or Asiago
PIZZA BAGEL
Cheese/Pepperoni on Plain Bagel
Coffee & Espresso
---
Hot or Iced
Coffee
Latte
Mocha
Vanilla Latte
Vanilla Hazelnut Latte

White Chocolate Mocha
Caramel Macchiato
Cold Brew Coffee
---
Iced or Frozen Shake
Classic
Caramel
Chocolate
Vanilla
Tea & More
---
Chai Latte
Hot Tea
Hot Cocoa
Iced Tea
Fountain
Sweets
---
Heavenly Chocolate Chip Cookie
Blueberry Muffin


Chocolate Chip Coffee Cake
Greek Yogurt Cherry Pastry
Contains Nuts
Vegetarian